SURPASS Establishes a Surpass Innovation Award at the University of Minnesota Medical Devices Center to Support Early-Stage Medical Innovation
March 10, 2019
Preclinical Research Leader, SURPASS Establishes a Surpass Innovation Award at the University of Minnesota Medical Devices Center to Support Early-Stage Medtech Entrepreneurs and Medical Device Innovation.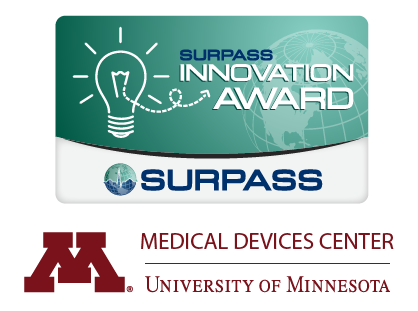 OSCEOLA, WI and MOUNTAIN VIEW, CA -— Surpass, Inc. ("Surpass"), a recognized leader in preclinical research services, today announced that it has established a Surpass Innovation Award to support Fellows at the University of Minnesota Medical Devices Center.
As a trusted partner for translational research and a leading medical device preclinical contract research organization (CRO), Surpass understands the challenges early-stage innovators face in securing the necessary funding to move their novel medical device concepts through the initial stage of the innovation cycle. Within the current environment, raising capital to support the initial phase of development can be difficult, if not impossible, causing many promising medical device technologies to not move forward. It is for this reason Surpass has established the Surpass Innovation Award, to offer medical device entrepreneurs the support and resources needed to obtain their first preclinical data - data that can be used to win investors and move these technologies forward. "We are pleased to roll out the Surpass Innovation Award to the University of Minnesota Medical Devices Center," said Dr. Tim Pelura, President and CEO of Surpass. "The University of Minnesota and Surpass have come together in this public-private relationship to establish this award for fostering medical entrepreneurs in the greater Twin Cities area - a thriving hub for medtech innovation. By working together we can help ensure the success of both the local and greater medical innovation community and the future of innovative healthcare." This is the third in a series of recently established Surpass Innovation Awards, but the first award for an institution in the Midwest.
"We are grateful to Surpass for this award. This collaboration marks an important step in cultivating industry and academic relationships that are vital for the health of the life science community and the well-being of the medical innovation continuum," said Ben Arcand, PhD, Director of the Innovation Fellows Program, Medical Devices Center at the University of Minnesota.
The Surpass Innovation Award will provide select Medical Devices Center Fellows their initial preclinical proof-of-concept data. Surpass will support the Awardees through the preclinical study process, from beginning to end, and provide assistance during due diligence with investors to better the chances of moving life-saving technologies forward to the patients who need them.