SURPASS Sponsors the Rosenman Institute's 2015 Innovation Awards to Support Medical Device Entrepreneurs
May 26, 2019
Preclinical Research Leader SURPASS Sponsors Innovation Awards at QB3's Rosenman Institute to Support Medical Device Entrepreneurs in California.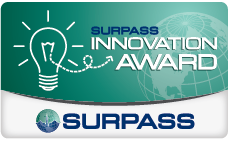 OSCEOLA, WI and MOUNTAIN VIEW, CA -— Surpass, Inc. ("Surpass"), a recognized leader in preclinical research services for the medical device industry, announced it is sponsoring the Rosenman Institute's Innovation Awards this year. The Rosenman Institute, an initiative of California life science accelerator QB3, speeds the development of medical devices by pairing early-stage medical device entrepreneurs with experienced medical device professionals and valuable resources. The goal of the Rosenman Innovation Awards is to propel those promising ideas towards commercialization.
"We at Surpass understand the challenges many early-stage entrepreneurs face to secure the necessary funding and support needed to advance their novel medical device concepts through the initial stage of the innovation cycle," said Dr. Tim Pelura, President and CEO of Surpass. "For this reason we feel compelled to support industry critical programs like QB3 and the Rosenman Institute, to ensure the health of the medical innovation continuum going forward. We are pleased to contribute to the Rosenman Institute's mission and awards through our Surpass Innovation Award Program. By working together we can help ensure the success of both the local and greater California innovation community and the future of healthcare innovation."
Surpass will grant in-kind services to the first and second place Rosenman Innovation Award recipients to provide their initial preclinical proof-of-concept data. Throughout the preclinical study process, the Surpass team will provide education and assistance to the awardee, in addition to supporting them during the due diligence phase with investors to improve the chances of moving life-saving and life-improving technologies into the healthcare marketplace.
"We are grateful to Surpass for supporting our program and this award. Collaborations like this, between early-stage entrepreneurs and companies providing services along the product development cycle, are imperative to maintain the health of our industry and the continued flow of high-quality medical devices for patients," said Christine Winoto, Assistant Director of QB3 and founder of the Rosenman Institute.
About the Rosenman Innovation Award
Who is eligible? All California residents interested in medical device commercialization are welcome to apply, including students, clinicians, designers, and engineers, anyone interested in medical device commercialization. Visit the Rosenman website to apply.
When are applications due? 5:00pm June 3, 2015
How are winners selected? Entries will be evaluated by a panel of jurors with expertise in medical devices, representing various disciplines within the industry.
What do winners receive?
1st prize: in-kind support from Surpass and an established medical technology business
2nd prize: in-kind support from Surpass
Support during the due diligence process with potential investors
Mentorship from Rosenman Fellows and legal/incorporation services
Increased visibility of their companies and their ideas among the medtech community
When are winners announced? June 24, 2015 at the 2nd Annual Rosenman Institute Symposium at UCSF Mission Bay
View full press release on PRWeb.com.