SURPASS Establishes a Surpass Innovation Award to Support Early-Stage Medtech Innovation within UCSF's Clinical and Translational Science Institute
March 3, 2019
Preclinical Research Leader, SURPASS Establishes a Surpass Innovation Award to Support Early-Stage Medtech Innovation and Researchers within University of California, San Francisco's, Clinical and Translational Science Institute.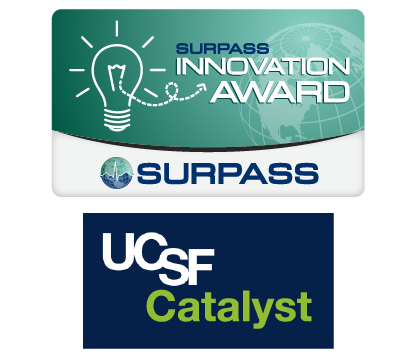 OSCEOLA, WI and MOUNTAIN VIEW, CA - Surpass, Inc. ("Surpass"), a recognized leader in translational preclinical research, today announced that it has established a Surpass innovation Award to support University of California, San Francisco's (UCSF's) leading researchers working on early-stage medtech innovation within the Clinical and Translational Science Institute (CTSI).
As a trusted partner for companies developing new medical technologies, Surpass understands the challenges entrepreneurs face in securing capital early in the medical innovation cycle. Raising capital during this initial phase can be difficult. Many promising technologies fail to attract early-stage funding to generate the necessary preclinical data to win potential investors for moving these technologies forward. For this reason, Surpass has established the Surpass Innovation Award, to provide medical entrepreneurs the support and resources needed to obtain their first preclinical data. "We are partnering with Centers of Biomedical Excellence and their entrepreneurs to support the future of medical innovation. Surpass is committed to being an active member of the Biomedical Community and a champion for the medical innovation continuum," said Dr. Tim Pelura, President and CEO of Surpass. "UCSF and Surpass have come together to form a unique partnership, one where public academia and private industry work together for the greater good to ensure critical life-saving and life-improving products continue to advance into the hands of physicians and patients."
This marks an important industry partnership for the Medical Devices Track of CTSI's Catalyst Awards program, which focuses specifically on discovery and development of novel clinically and commercially viable medical device tools and products. June Lee, MD, FACCP, director of CTSI's Early Translational Research program, which manages the Catalyst Awards, echoed that sentiment. "This collaboration marks an important step in cultivating critical industry-academic partnerships in our Medical Devices Track. It represents a novel partnership with industry that further supports the broader mandate of UCSF and the NIH Clinical and Translational Science Awards, to accelerating research to improve health."
The Surpass Innovation Award will provide UCSF CTSI Program Awardees their first preclinical proof-of-concept data. Surpass will support the Awardees through the entire preclinical study process, and provide assistance during the due diligence phase with investors to help optimize the chances of moving these life-saving technologies forward to the patients who need them.